The first vampire fiction I fell in love with was The Vampire Lestat by Anne Rice. Why? What about a creature of the night that killed people by sucking the blood out of their veins made me want more? I wish I knew exactly, but I'm going to try and break down some of the things that might be appealing. To make it fair, I'm going to list the cons as well.
Pros to Dating a Vampire
1. They don't age. Immortality is pretty intriguing.
2. They are beautiful, at least in majority of books I've read. Young and hot? I think this mystery is starting to unravel.
3. Nocturnal creatures are very appealing to night owls, such as myself.
4. I've always had a thing for a guy kissing or nibbling my neck. It's one of the top erogenous zones.  Okay, maybe not to suck out my blood, but it looks so hot in the movies.
5. They're strong. Superhuman strength is just plain cool!
6. A lot of them can fly. If I could have a super power, my first choice would be flying! Plus, it's got to beat taking coach.
Vampire Dating Cons
1. Sleeping in a coffin? No way. I don't care how cute the vampire is.
2. Always the chance of accidental murder. He might be the nicest vampire in the world but when you're sucking on a jugular, things can go bad quick.
3. Awkward moment when he won't eat or drink at a dinner party and your friends think you're dating a freak.
4. Having to keep a fire extinguisher handy when you go to your friend's church wedding.
Life Sized Needle Felted Bat Giveaway
I decided to felt a bat for this giveaway. Here is a mini tutorial on how I made him.
1. As usual, I start with a fluff of wool that I use a felting needle on to start working a shape. In this case, I added a length of pipe cleaner to the end so that I'd be able to hang him.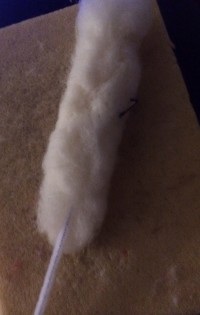 2. Rough shape of body and head.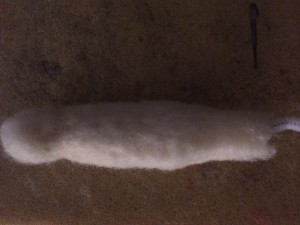 3. Cover in dark wool.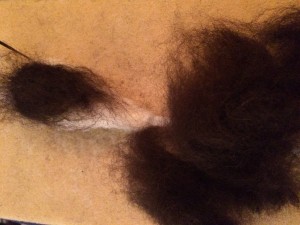 4. Make ears.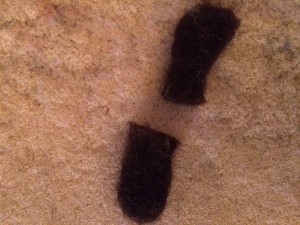 5. Felt on ears and sew on black beads for eyes. Add black wool for beginning of wings.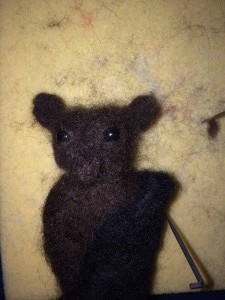 6. Add layer of lighter wool to add depth and texture to his fur.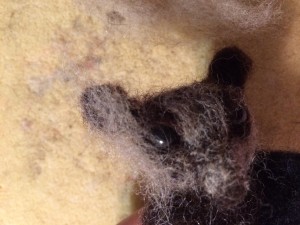 7. Build wings in black wool.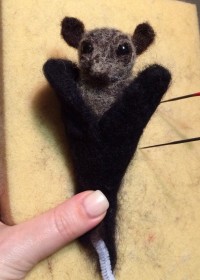 Finished bat. I added a polymer nose I sculpted. You can find that tutorial here.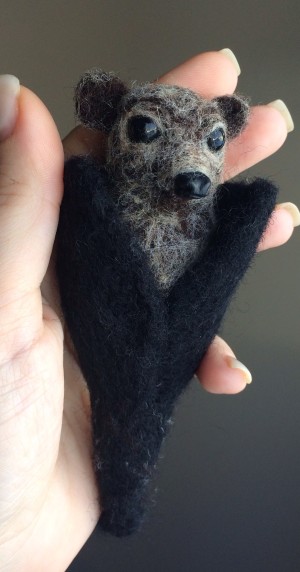 Shown hanging from a pen. You could hang him from almost anywhere. I thought he might be cute hanging from a rear view mirror.