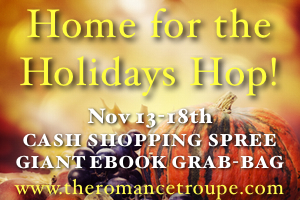 November 13th – November 18th
Grand Prize Shopping Spree: $450+ Gift Card or
 Paypal Cash
Second Place Grand Prize: (1) E-Book from every

 participating Author
To enter, comment on the homepage of the blog hop here. Comment on this blog with your email address for an additional entry.
As a huge cheesecake fan, I make one for every holiday. This is my favorite recipe
New York Cheesecake
Crust
5 tablespoons unsalted butter, melted, plus room-temperature butter for pan

12 graham crackers 

1/4 cup sugar

1/4 teaspoon coarse salt
Filling
2 1/2 pounds bar cream cheese, room temperature (I always use Philadelphia) 

1 1/2 cups sugar

1 teaspoon finely grated lemon zest, plus 1 tablespoon fresh lemon juice. (I cheat on this and skip the lemon zest. You can also use vanilla instead of lemon.)

1/2 teaspoon coarse salt

4 large

eggs, room temperature

1 cup sour cream, room temperature
Preheat oven to 375 degrees. Make crust: Butter a 9-by-3-inch springform pan. In a food processor, pulse graham crackers until fine crumbs form; add melted butter, sugar, and salt, and pulse to combine. Press crumb mixture into bottom and about 1 inch up side of pan. Bake until set, 12 to 15 minutes; let cool on a wire rack. Reduce oven to 325 degrees.
Set a kettle of water to boil. Make filling: Using an electric mixer, beat cream cheese on medium until fluffy, scraping down side of bowl. Gradually add sugar, beating until fluffy. Beat in lemon zest and juice, and salt. Beat in eggs, one at a time, scraping down side of bowl after each addition. Beat in sour cream.
Wrap bottom half of pan in foil. Pour in filling; place in a roasting pan. Pour in boiling water to come halfway up side of springform. Bake until just set in center, about 1 3/4 hours. Remove pan from water; let cool 20 minutes. Run a paring knife around edge; let cool completely. Cover; chill overnight before serving.
This is a recipe from Martha Stewart. I'd like to add that I think the most important part of making a cheesecake is not overcooking it. If it starts to crack, it's over cooking. The surface should remain level. I typically check to whether my cheesecake is cooked by tapping on the pan. You want the inner 2-3″ in diameter to still jiggle when you stop cooking.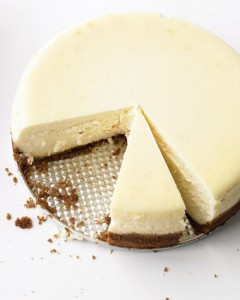 My ebook contribution is an ecopy of the keepers.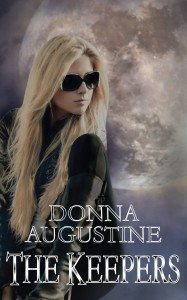 Two days ago, Jo Davids was a waitress by night and a college kid by day, with the unnerving problem of objects floating around her.
One Day ago, Jo's sexy boss, Cormac, noticed her for all the wrong reasons when she witnessed a man transform into a monster in the basement of his casino.
Today, Cormac ordered her shot.
If he's real lucky, she won't die. Because if she does, all hope is lost.
Check out the rest of the participating sites and gain extra entries.
more covers coming…